Robert (Bob) Bain MCom FPNA SA Fin MACS(Snr) CP AATF
---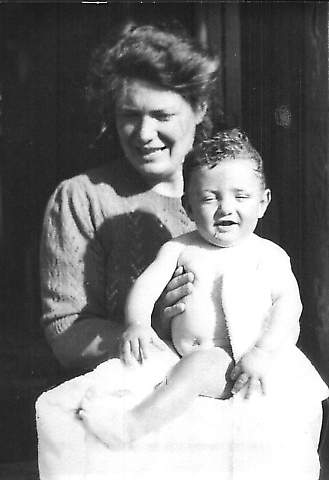 With Mother "Kitty" Ivy Miriam Bain 1944
The image above shows a contented happy person settled on his mother's knee. I was born in Rochford, Essex England in 1944, and have lived and worked in (or near) London England, Toronto Canada, Wellington New Zealand, Melbourne Australia but most of my working life has been spent in Sydney Australia.
I am a Professional National Accountant - (Fellow) of the National Institute of Accountants (FPNA) and a Senior Associate of the Financial Services Institute of Australasia. The National Institute of Accountants is a full member of the International Federation of Accountants..
Information regarding the National Institute of Accountants may be found at:- NIA HomePage
I am a Professional grade member of the Australian Computer Society - details of which may be found the Australian Computer Society home page at:- ACS Home Page I can program, and have knowledge of Systems Analysis and other aspects of computer technology such as Data Communications.
I can be contacted at my ACS redirection address email .

Created using Microsoft Front Page Express 30th. June 2002.
Revised 15th. June 2008
---